About Yoga
The roots of Yoga are in the Vedas, one of the oldest scriptures of mankind, an operating instruction for body and mind - discovered from the "Indus-Sarasvati-Civilization". The Indus-Sarasvati was one of the largest civilization in the ancient world (3000 BC) and exceptionally modern for its time. Named after the two rivers that flowed through India, nowadays Pakistan and North India. The word "Yoga" comes from Sanskrit, the oldest Indo-European language and literaly translated it means "to yoke/harness" the horses/oxes on the yoke. What should be yoked, supposed here in the transferred sense, are the human sense organs, through the mastery of the mind, to reach the union of body and mind.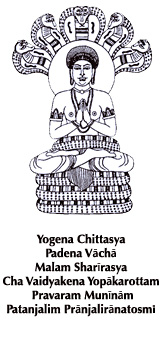 In the Vedic scriptures different Yogas are discribed, such as "Bhakti Yoga" - the Yoga of devotion; "Karma Yoga" - the Yoga of right altitude behind each action; "Jnana Yoga" - the Yoga of knowledge; which are all summarised in one of the most known book the "Bhagavad Gita", discribed as a story about a war, the daily war in our head (thoughts). As consequence Yoga is a philosophy as well a generic term for different techniques and ways, which lead all to the same target: regaining the true nature of man - the Self-knowledge; with the realization, the knowledge that everybody is a part of the totality but because of ignorance we are seperated and feel mortal.
The true nature of man is pure conscioussness, happiness and immortality. Body, mind and thoughts are evanescent, they come and go; thr true Self is eternal universal conscioussness.?It dips neither on nor is neglectable, it is pervasive. Same like a wave, is also only possible by the whole of the ocean. Develops, grows, moves forward and passes, back into the whole of the ocean.
The sage Patanjali wrote the well-known "Yoga Sutras of Patanjali", in which the way of the Yoga was divided in eight levels (admits as "Raja Yoga" or "Ashtanga Yoga"):
YAMAS - the rules for handling others; the behavior outward
c) Brahmacharya - moderation in all things, focus on the Brahma within oneself
d) Asteya - non-stealing, lack of jealousy
e) Aparigraha - incorruptibility, not strongholds
NIYAMAS - the behavior inward; they complete the instructions of the Yamas
a) Saucha - purity -the internal and external cleanliness
b) Santosha - contentment
c) Tapas - austerity / intensity
d) Swadhyaya - study of the scriptures
e) Ishwara Pranidhana - awareness of the divine Presence
ASANAS - steady body posture
PRANAYAMA - Regulation or control of the Prana trough breathing
PRATYAHARA - withdrawal of the senses in order to still the mind
DHARANA - concentration, preparation for Meditation
DHYANA - Meditation, the uptake of the knowledge, the return to own nature
SAMADHI - abode in the "Self"